The Curtain Rise: A Tapestry of Bernard Herrmann's Film Music
As noted in the programme materials, prior to the arrival of the actors and the play's proper commencement, the audience was treated to a roughly 30 minute suite of Herrmann themes taken from approximately 20 separate works.
In his intro to the audience, Burashko explained the curtain rise music was a salute to Herrmann's birthday, and the music was sync'd to a video mash-up of scenes and dissolves of more or less corresponding images, either from the films, or stock images suggesting the original sources.
Dan Paar's musical mash-up had themes being played in whole or part, wafting back into another theme for a few bars, and the swirling suite was performed by an excellent orchestra.
Part of the fun was seeing Herrmann's music performed live – a rare treat for any Herrmann aficionado – and hearing Paar's clever arrangements of themes for new instrumental groupings. Psycho, for example, was played with brass, piano and xylophone, whereas Twisted Nerve was performed with a lead whistle (even though the sustained, extreme high notes proved a bit challenging for the musician).
For the Herrmannites out there, the order of themes went sort of like this:
Citizen Kane / Taxi Driver / Garden of Evil / Naked and the Dead / Day the Earth Stood Still / Man Who Knew Too Much / Mysterious Island / Twilight Zone: "Where is Everybody?" / Vertigo / North by Northwest / Psycho / Cape Fear / On Dangerous Ground / Twilight Zone theme / Sisters / Day the Earth Stood Still / Vertigo / Fahrenheit 451 / Vertigo / Sisters / Twisted Nerve / Vertigo / North by Northwest / Citizen Kane.
The themes from North by Northwest and Vertigo were a bit overused and extended the suite perhaps 5-10 mins. longer than necessary, but Paar's arrangements were tremendously fun, and he deserves extra credit for showcasing a few Herrmann scores often overlooked by critics.
An Interview with Director Andrew Burashko
On stage, Andrew Burashko functioned as emcee, director, and conductor of the orchestra, taking on the role of Herrmann himself, conducting the orchestra through period ballroom tunes and score material, and on Friday April 1st (you know, April Fool's Day) the cast stayed after the show for a Q&A session with the audience.
To compensate for being unable to attend that specific performance, what follows is a Q&A with Burashko, who details some of the aspects in mounting a play that enjoyed sell-out performances during most of the play's performances between March 31 – April 3, 2011.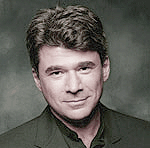 Mark R. Hasan: In your introduction to the audience, you mentioned the idea for mounting War of the Worlds stemmed from Dan Paar's insistence that something ought to be done to celebrate the centenary of Bernard Herrmann's birthday.
Andrew Burashko: It wasn't even that emphatic. He's a Bernard Herrmann fan.
MRH: Were you a fan of the composer, in addition to Orson Welles?
AB: Oh, absolutely. I've never presented anything that I didn't feel passionate about or had a real connection to. The key to out success, I think, is everything comes from a very genuine place.
MRH: Had you heard a lot of Herrmann's music, and for that matter, even a number of Welles' live radio broadcasts?
AB: Regarding Bernard Herrmann's music, absolutely... I didn't hear [the Welles] broadcast until the idea came to me to do War of the Worlds [WOW].
When I discovered how little music there was in it, I considered doing maybe other radio plays full of underscoring - the soundtrack is a very big part of every other play that they did - but there was just something about that play, and all the myths surrounding it.
MRH: Much has been written about the original broadcast and Welles himself, and there have been dramatizations of that night, including a 1957 teleplay (The Night America Trembled) and a 1975 TV movie (The Night That Panicked America), but their focus was on the mass hysteria caused by the broadcast. Welles & his cast & crew were only seen in vignettes.
I liked the way you essentially recreated the 1938 recording environment for the audience. It was a very different concept that I thought worked, and perhaps you can elaborate on where it emanated, and whether it was difficult to organize.
AB: It wasn't difficult. This is the first time I've directed anything, [but] I know a bunch of people in the theatre world, and I've worked directly with set design and lighting design.
It was all somehow organic. I wanted to create that environment of the studio and to find that fine line in terms of how it looks: between it looking very realistic so that the audience felt like they were voyeurs, and at the same time (especially towards the end of the play), to transform it into something completely different.