Oscar-Nominated for Best Actress in a Supporting Role (Edna May Oliver), and Best Color Cinematography (Ray Rennahan, Bert Glennon).
John Ford's first Technicolor film gets a massive overhaul in this beautiful HD transfer, released by Twilight Time and augmented with several of the unique extras originally produced for Fox' 2007 mega-set, Ford at Fox.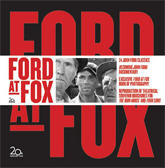 ___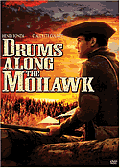 The prior 2005 DVD featured a much older transfer sourced from a late seventies internegative suffering from drifting colour registration. This often yielded a faint halo of red in wide shots and soft if not a little fuzzy details, but with this robust HD transfer, the fabrics in the costumes are so detailed one can feel the texture of the patterns. Well, not literally, but this is one of the studio's best restorations, featuring a more restrained use of DNR, and leaving just enough of the original film grain.
Even though this was shot in Technicolor, Ford apparently avoided an explosively colourful look, as was the case for Warner Bros.' more appropriately fanciful The Adventures of Robin Hood (1938). Perhaps wanting to stick with the shadows and grey shades inherent to his B&W films, cinematographers Bert Glennon and Ray Rennahan went for a restrained palette, which gives Mohawk a look akin to a period oil painting (and from a contemporary stance, a look not unlike the wartime documents crafted by appointed wartime artists).
It's still a celebration of Americana – a farmer (Henry Fonda) marries the daughter (Claudette Colbert) of a wealthy family, and the two struggle to set roots in spite of marauding waves of Mohawks led by scheming Tories (namely slimy John Carradine) – with a modest epic scope conveyed in select shots that demonstrate both the beauty of the sloping landscape, and the diminutive stature of men and women in such sprawling verdant terrain.
Great attention goes into the settlers' first physical struggles – working the land free from tree stumps, planting crops, and building a new home – and the after-effects of the Tories' slash-and-burn policies which incinerated homes and precious belongings carried over from the big city. The power of a dependent, tightly-knitted community is ultimately what saves the virgin settlement from total despair and destruction, as men and women defend themselves from a massive assault in the film's exciting finale.
Faces and cultures from every environ band together, although some of the archetypical characters are a little rich for modern audiences: the token good Indian Blue Black is a little cartoonish, often functioning as comic relief alongside a short man with sloping lapses in memory, and a nattering old woman; and Colbert's version of Lana involves much crying, physical collapsing and wimpering in the first third before she becomes more assertive, growing stronger as she and husband Gilbert begin to respect and feed off the riches of the land.
Cliches notwithstanding, it's still a vivid portrayal of the pioneer life, and there are some potent scenes, especially when the men return home from a war campaign. Focusing on the after-effects, Ford captures their physically maimed and emotionally traumatized states, culminating with Fonda's one-take speech of Gilbert's own trauma. Delivered in a dazed-like fashion with a soft, unsettling voice, it's a beautifully underplayed scene, and one of Fonda's finest moments on film.
Alfred Newman's score (which isn't available as an isolated track, as credited in the Blu-ray's booklet) includes traditional folk themes – the soundtracks for Ford's later Republic films are similarly-structured – and the production details are first-rate, from the wooden fort with its centre church to the costumes and rustic furniture which populates most homes.
When originally released as part of the 21-disc Ford at Fox box (and later reissued in a pruned 6-disc Ford at Fox: The Essentials Collection), the DVD came with an excellent commentary track with producer / director Nick Redman and film historian Julie Kirgo, plus some vintage promotional materials which remain unique to the 2007 release.
TT's BR includes the pair's commentary, which provides a rich historical overview of the film's making, Ford's quirks, and the superb cast of stars and members of the director's little stock company.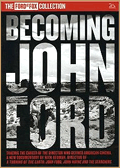 ___
___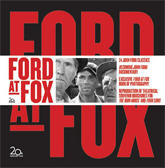 Also included is the Redman-directed documentary Becoming John Ford (2007) which was a bonus in the boxed and slim sets, and was released as a standalone DVD. Redman, who also directed a series of Sam Peckinpah docs, largely sticks to a talking head / film clip approach, but with some notable stylistic upgrades.
Filmed in B&W, the camera often tracks to and from his interview subjects – film historians Rudy Behlmer. Janet Bergstrom, James D'Arc, and Jean-Christophe Jauffre; screenwriter Lem Dobbs; actor Peter Fonda; writer Tom Mankiewics; and Ford biographer Joseph McBride – and integrates brief jump cuts where they ponder or gather thoughts in silence.
A wealth of clips and stills provide a rich portrait of a remarkable filmmaker and a complex man whose portraits of strong, supportive family units differed from his own. A heavy drinker and a man not always on the best of terms with his kids – he even smacked Fonda during the making of Mister Roberts (1955), severing their once-solid association – Ford's life is examined from his entry into movies as an actor to his mid-fifties period, and jumping ahead to his final years when he remained at home (and in bed) during the seventies.
Redman's doc, with writing from Kirgo and a score from Christopher Caliendo (who rescored Peckinpah's Major Dundee) is a marked difference from the laid-back, fawning, fluffy and ultimately banal tribute docs produced & directed by Richard Schickel, a former critic and film historian whose early seventies docs consisted of face-to-face interviews with marginalized directors from Hollywood's early years – Frank Capra, Howard Hawks, William Wellman, to name a few – but when courted by the major labels, delivers uncritical, extended featurettes masquerading as legit documentaries.
Becoming John Ford is exceptionally refreshing, and should remind viewers and film fans how much of a knowledge base has been continually marginalized whenever a major studio chooses a safe, neutral, and arguably lazy historian whose generic productions - most recently, The Eastwood Factor [M] (2010) - are more home video filler than genuine documentations of film history.
Prior to his WWII documentaries, John Ford's next set of films include The Grapes of Wrath (1940), The Long Voyage Home (1940), Tobacco Road (1941), and How Green Was My Valley (1941).
© 2013 Mark R. Hasan